First Seniors is an active group (open to anyone who considers themselves a senior) within the life of First Christian Church. They are a vibrant and vital part of who we are as a church. The group has a desire to share their love of God by supporting FCC's vision for "connecting all people to Jesus and each other". Join us in our various activities and events that are listed below and join our Facebook group page for more interaction with our community.
Our hope is that through First Seniors, you will live a life enriched by God and leave a legacy for generations to come. The ministry shares opportunities for you to grow deeper in your personal walk with God and come alongside those seeking to connect to Jesus and one another.
Fellowship
Learning
First Groups (Comfort Bears & Prayer Shawl Ministry)
Grief Support
Down the Road Planning
Service Projects & Opportunities to Bless Others
Inspiration
Church-Wide Activities
Trips of Interest
Club 90 is a special subset of seniors who are 90 years are older. The staff of FCC treats them to an annual lunch to celebrate them and their contributions to FCC over the years. Typically this is held in February or March when snowbirds are in town. In 2021, we have 23 honorees and our celebration was held in June due to COVID. On July 25, 2021 two very special ladies, in this group, received recognition during the worship service. Amy Norberg turned 100 years old on New Year's Eve 2020. And, Vera Craig turned 100 years old on July 29, 2021. By the way, they are sitting on the left end of the couch in this group picture. Vera is on the end with Amy next to her.
Activities
Comfort Bears -- October 6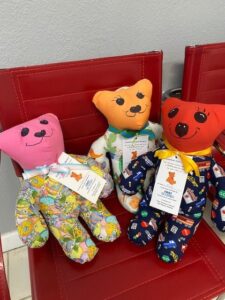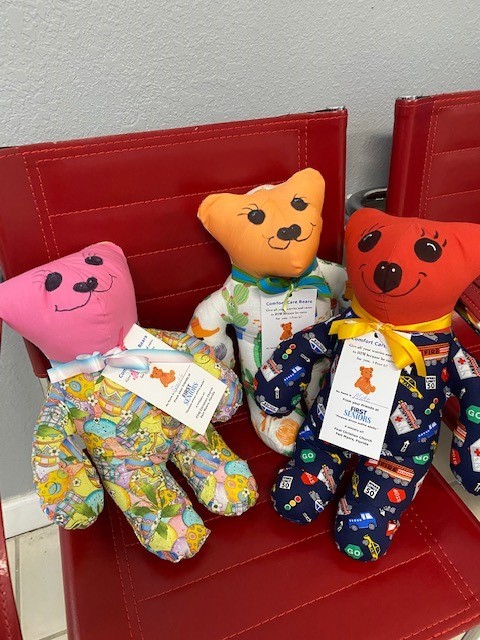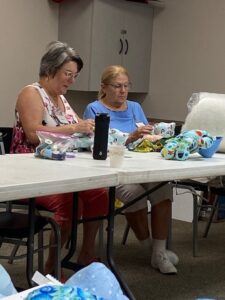 Comfort Bears – In Person
Making bears to bless and comfort adults and children. For more information call Connie @ 239.645.2269.
Leader(s): Connie Hamilton
Who: All Ages | Childcare: No
Where: FCC, Room WC-1 | When: 1st Wednesday, 9:00 am
Cost: None | Frequency/Duration: Monthly, ongoing
Join
Prayer Shawl Ministry -- September 11
Prayer Shawl Ministry – In Person
Make prayer shawls to comfort and minister to those that are dealing with illness, recovery, medical procedures, bereavement, prayer or meditation, ceremonies, etc. For more information call Becky in the church office (239.334.0316).
Leaders: Becky Wilcoxson & Debi Butzbach
Who: All Ages | Childcare: No
Where: FCC, Room WC-2 | When: 2nd Saturday, 10:00 am-Noon
Cost: Supplies | Frequency/Duration: Monthly, Ongoing
Join
Lunch Bunch - September 16
Open to everyone, just a bunch of us having lunch and visiting. Usually happens on the third Thursday of the month. It's a great way to meet new people and become familiar with restaurants in the area. We rotate locations from north, central and south Fort Myers.
Please sign up so we can give the restaurant an approximate count. You can sign up with the Church Center app, by calling the church office (239.334.0326) OR at the Information Counter on Sundays. You will receive a reminder call the day before.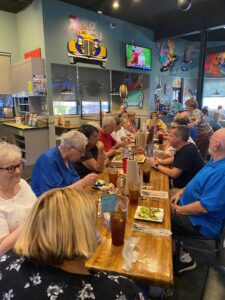 Who: All Ages | Childcare: No
Where: Sabor a Mexico, 13121 N Cleveland Ave., North Fort Myers
When: September 16 @ 11:30 a.m.
Cost: Your meal
Sign up by clicking the button below.
Sign Up
---
Events
Book Club -- Current read "Eden Hill"
Bi-monthly Book Club to read and discuss Christian books. Open to everyone. Purchase of featured book only requirement. We will have discounted books thru the church ($11.99) but it is absolutely fine for you to purchase ($14.99) on your own. Some of our books are available electronically or from the Lee County Library.
Featured Book — Eden Hill  by Bill Higgs who is a recovering academic, former broadcasting engineer, and avid storyteller. He also admits to being a nostalgic baby boomer with a keen interest in how things past can teach lessons for the present. He lives in Kentucky with his wife, author Liz Curtis Higgs, and her two cats. Eden Hill is his first novel.
"I just flat loved this! This is a curl-up-and-settle-in delight that pitch-perfectly evokes 1960s Americana." — JERRY B. JENKINS, author of the New York Times bestselling Left Behind series.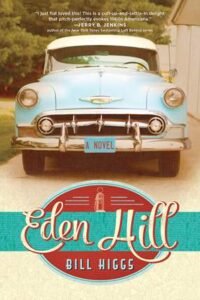 About the Book — Nothing seems to change in Eden Hill, Kentucky, and that's just fine with Virgil T. Osgood. He's been content to raise his family and run the only service station in town. But when a new station is set to open right across the road from Virgil's pumps, he suddenly faces obstacles in his career, his marriage, and his self-worth that he's never even dreamed of.
Cornelius Alexander wants his new Zipco station to succeed and help establish a strong foundation for his growing family. As long as he follows the Zipco guide, he's sure to be a success—and prove his father wrong.
Reverend Caudill wants to be a conduit for grace in his town, but that grace is challenged by the changes sweeping through in the early 1960s. For the sake of this small town, Virgil and Cornelius must learn to get along, but how do you love your neighbor when his very presence threatens to upend everything you hold dear?
— This group is open to everyone, it's a group of FCCers who enjoy reading and getting together to discuss the book. Sign-up with the Church Center app, by calling the church office (239.334.0316) OR at the Information Counter on Sundays. Books are also available to purchase at the Information Counter for $11.99.
Who: All Ages | Childcare: No
Where: FCC Family Center (old sanctuary)
When: November 16 @ 2 PM
Cost: Book
Sign up by clicking the button below.
Sign Up
Trip to Savannah, GA -- Spring 2022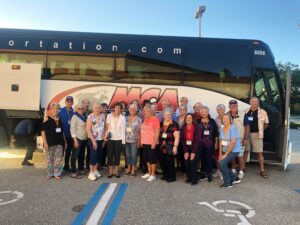 March 28 – April 1, 2022
Enjoy motorcoach transportation from FCCFM to Savannah, Jekyll Island & Beaufort, SC. Trip is coordinated by our Seniors Ministry but open to adults of all ages. Only 18 slots left to join this trip. Register soon so you won't miss out.
Price also includes:
4 nights lodging in the Savannah area
8 meals: 4 breakfasts & 4 dinners
Guided trolley tour of Savannah, followed by hop-on/hop-off privileges
Guided tour of Beaufort, SC & Parris Island
Evening show at the famous Savannah Theatre
Guided tour of St. Simons Island
Guided tram tour of Jekyll Island
For more pictures, video and information visit: www.grouptrips.com/firstchristianchurch
$598 per person, based on double occupancy
$75 deposit due upon registration
(*For single occupancy, $179 will be added to total price)
Gratuities for motorcoach drivers and tour guides included.
Final payment due January 21, 2022
Sign Up
Wreath Making -- September 30
Come and enjoy an afternoon of learning how to make a fall or Christmas wreath. No previous experience necessary. All materials will be provided. Give the wreath as a gift or keep at home for yourself.  This class is open to all ages and organized by our Seniors Ministry.
Please sign up with the link below, on the Church Center app, by calling the church office (239.334.0316) OR at the Information Counter on Sundays.
Craft: Wreath Making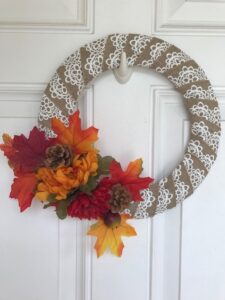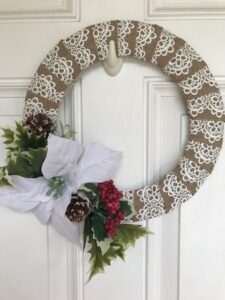 Who: Open to everyone | Childcare: No
When: September 30 @ 2 PM
Where: FCC Family Center (old Sanctuary)
Teacher: DiAnn Boardman
Cost: $5.00
Sign Up